There might be some words too, sorry about that. So, this is my first post for Voices! Hi, I'm Cade (it's a gender-neutral name, but I identify as female), and I'm a sophomore hoping to major in Neuroscience & Behavior and Government.  Since the semester is almost over and you readers out there don't know me, I thought I'd introduce myself through a brief cell-phone-picture-filled rundown of my semester thus far. PS I love lists. Sorry again.
1.  I got to Wesleyan a couple days early to participate in In the Company of Others (ITCOO), a program that happens during orientation. It's a really cool event, during which a group of wise elders… I mean, er, older students, tell their stories to the freshmen. We all got there early to intensely workshop our monologues and prepare for the performance. My "ITCOO" was about being diagnosed with multiple sclerosis freshmen year. I really enjoyed doing the program/performance because even though I'm an intensely nervous/quiet person, I thought it was an important story to tell. I guess the overarching theme of my monologue was that even when everything should be going well (example: I'm 18 and at a great college!), things can suddenly go very very badly (example: what do you mean I need a spinal tap? Spinal taps are real???) and it takes a lot of time and strength to reevaluate and keep going. So I did ITCOO! In the many many hours of free time we had in between workshops and rehearsals, I decorated my room!
2. I live in International House (aka I-House, or for the tech-savvy, iHouse), which is fantastic! I-House is one of many program houses on campus, and our focus is to "provide a home for students of all ethnic backgrounds and nationalities. International House is a haven for ideas and perspectives from around the world." I love living in I-House because it's so diverse and thus we get to make a lot of delicious food from other countries. Food is really important in college. Sadly the only photo I have of my home sweet home is from when our front steps were being replaced. But here's my house!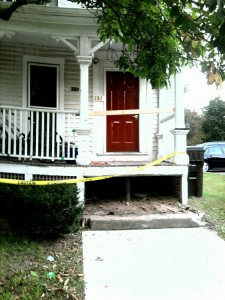 3. For my housemate Victoria's birthday, other-housemate-Michael and I slaved away to make some not-very-impressive looking cupcakes. Proof, yet again, that college students will do anything to procrastinate. And proof that food is very important and the best gift one human being can give another.
4. Recovering from the devastating blow of my cupcakes looking not very impressive, I threw myself into my schoolwork, resulting in many hand-drawn biology diagrams for my Experimental Techniques Handbook. The most comical of these is:
I'm taking three science classes this semester which means that I spent 6 hours in Sci Li last night and it felt like 20 minutes. Sadly, I don't get to spend all that time drawing fish.
5. Fall break! I spent my fall break in New Hampshire with other-housemate-Michael (henceforth to be known as best-friend-Michael, or, just Michael). We went to a pumpkin festival! And carved a pumpkin! Our pumpkin is pretty intense. It was good to be off campus just briefly, and the pumpkin festival was very cool. Pumpkin whoopie pies are delicious, in case you'd somehow forgotten about food during list item #4.
6. Returning to Wesleyan, I felt pretty nostalgic, so I revisited the Butterfields dorms ("Butts") where I lived freshmen year. The Butts have some very cool tunnels underneath ("Butts tunnels") which are covered in student graffiti. The laundry room is down there so it's usually more cozy than creepy. This is one piece of graffiti I just can't figure out: is it poetic? Is it from a movie? Does it mean anything?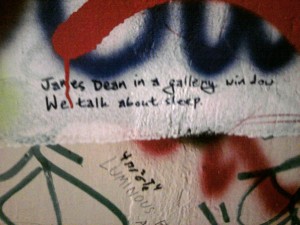 7. Clearly I have no idea. Then, a greater-than-everything-else thing happened: bonding night for my a cappella group. Bonding night, noun: a night where we all sit in someone's dorm room and eat snacks and listen to music and talk. I'm a member of Vocal Debauchery, which is Wes's first (…and only) co-ed a cappella/sketch comedy group. Chelsea (whose dorm room we used) has one of those magnetic poetry kits in Swedish, from which we derived:
If you're confused, it's probably because you're not a member of Vocal Debauchery, OR because you haven't seen us on youtube. [youtube]http://www.youtube.com/watch?v=goYcReX0vZI&feature=channel_video_title[/youtube] Now you're less confused!
8. EVEN MORE AWESOME THINGS WERE TO COME, little did I know. By even more awesome, I mean Thanksgiving break. I started my break with a quick (seriously quick, five hours in fact) trip to NYC to visit my friends from high school (I went to high school in Barcelona, Spain, so it was very fantastic and coincidental that a bunch of us were in the city at once). That was great, and it was also very great to go home and see my family. And make them a pie. I took a pie-making class, so I'm pretty legit.
9. Which leads me to yesterday! Yesterday I got a very exciting email from my doctor which said: no new lesions. Multiple sclerosis, in case you were wondering, causes lesions (scars) on your brain because your immune system has freaked out and decided to attack one type of brain cell. I got an MRI over Thanksgiving break (the less-cool part of break for me), and the results show that I have no new lesions since February! Hooray for medication! To show how excited I am, I'm including a picture of the birthday cake I made for my brother's 8th birthday. This should imply the right amount of happiness, as it is a "mint oreo slime cake."
Now, like everyone else, I'm pretty stressed about this coming week (so. many. assignments. due.) and finals! Off to study, wish me luck